St. Mary's Springs Academy High School, grades 9-12, is comprised of 275+ students who reside in the North Hall of our newly remodeled and consolidated campus. The building includes four science labs, computer labs, and spacious art and music facilities. Each classroom has Smart projection capabilities designed to support each individual student's learning style.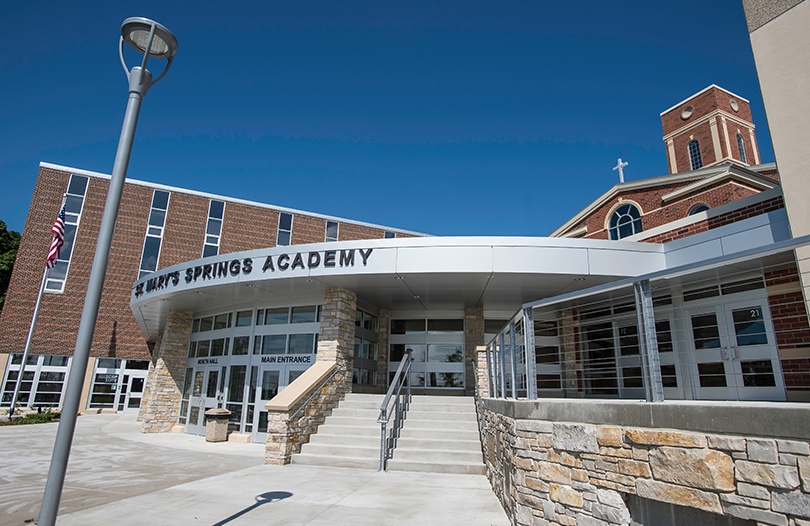 While we are very proud of our campus, we are more excited about the professional faculty and staff who have chosen to make SMSA their career home, and who selflessly offer their time and talent to share the minds and hearts of our youth. We strive to hire teachers who meet simple criteria: mastery in their subject area, an affinity for the high school learner, strong teaching skills, ability to differentiate their instruction, and a faith that guides their profession and life.
Our goal is to form well rounded students who have a solid foundation of knowledge to build on, a passion for self-emptying service, and a desire to continually grow in their relationship with Christ. We take this goal very seriously and are proud to serve as educators of students who will have a profound impact on the world.
SMSA High School Numbers at a Glance
260
Total High School
Student Body
14:1
Student to Teacher
Ratio
20 Credits
Dual College-Credit
Potential
$4,992,000
College Scholarships
Offered in 2017
Spark Youth Apprenticeship Program
Spark, Youth Apprenticeship is a program of Fond du Lac Works, a division of Envision Greater Fond du Lac, dedicated to bolstering the Fond du Lac economy through the recruitment, retention and development of a quality workforce. SMSA students involved in the Spark, Youth Apprenticeship Program spend a portion of the day in school and a portion of the day on the work site. This unique schedule allows students to apply what they have learned in school to the jobs they are performing on the work site. Some examples of where our students are partnered in the community include Manowske Welding (Engineering), SMSA (Information Technology), Agnesian HealthCare (CNA), and more.