St. Mary's Springs Academy is located on the corner of Hwy 23 and CTY Road K in Fond du Lac, WI.
Visitors traveling West or East on Hwy 23:
Campus is accessible from Hwy 23 by exiting on CTY Road K and heading North.
Visitors traveling North or South on Hwy 151:
Campus is accessible from Hwy 151 by exiting and turning East onto CTY Road K.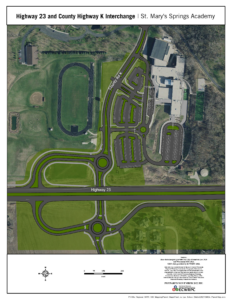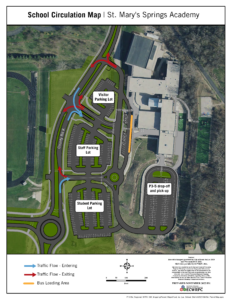 There are two entrances to campus, North Hall (door #1) and South Hall (door #17).
North Hall is our main entrance (for guests to campus and all athletic events). During school hours, visitors may park in the northernmost parking lot (visitor lot) and enter door #1. Handicap parking is located near the bus parking area closer to the front of the building (see map below). There are three additional short-term visitor parking spots in this location.
The South Hall entrance, located at the "top of the hill" is the primary entrance for P3 – 5th grade. Visitors to campus may use the designated visitor stalls (adjacent to the handicap stalls) in the lot and enter through door #17. Handicap parking is located closest to the door in this lot.
Buses traveling to campus should use the "bus zone." Buses dropping students off for sporting events may park here until departing campus. Student athletes use the North Hall entrance (door #1).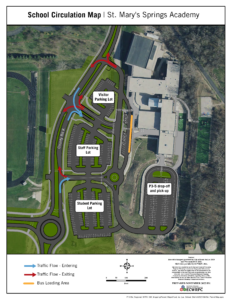 In order to ensure safety and avoid disrupting school activities, we have established the following visitor guidelines.
All visitors must check in and out of the school office.
Principals may prohibit or discourage visits when students are being tested and other times when visits may disrupt school activities.
Parents/guardians are welcome to visit our campus. However, parents/guardians who wish to discuss a student's progress should request a meeting in advance, held outside of regular school hours.
Looking to schedule a tour? Click here!