Youth Movie Night
Holy Family Catholic Community's Youth Group will host an outdoor movie night for middle school and high school students tonight from 6:30 to 8:00 pm at Sacred Heart School, 678 Western Ave., Fond du Lac. Holy Family's Youth Group meets every Thursday night and is open to all children in middle and high school.
---
Oktoberfest is almost here!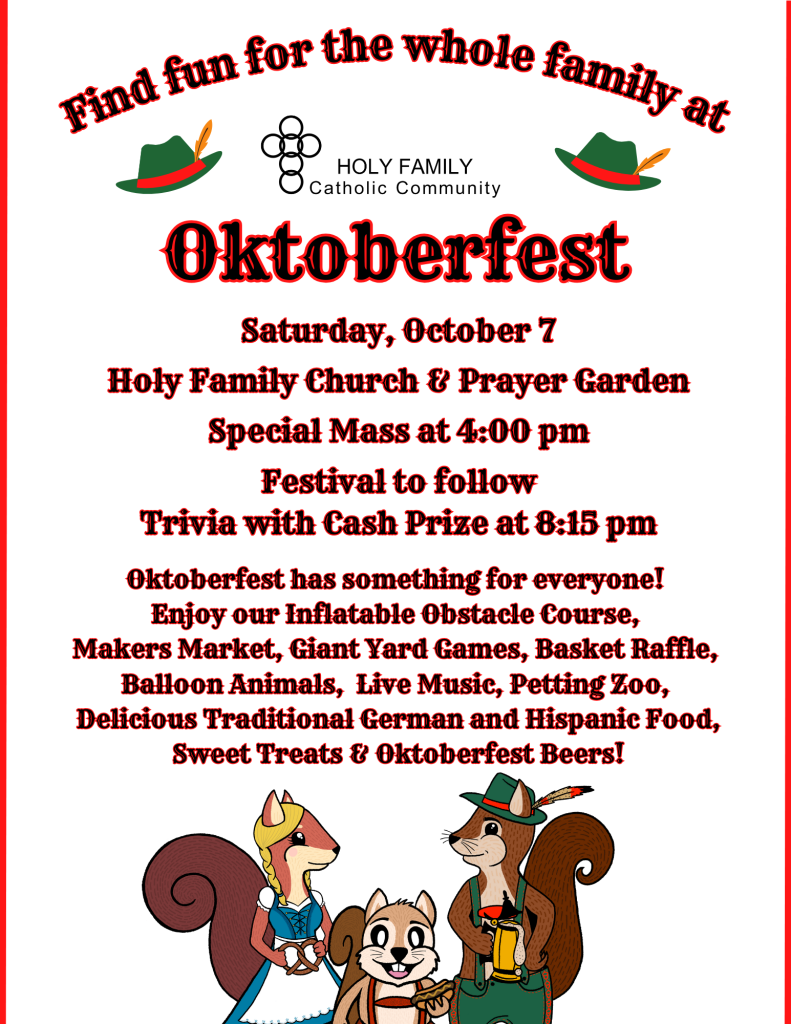 There will be plenty of fun for the whole family at Holy Family Catholic Community's Oktoberfest Saturday, October 7! The festivities will kick off at 4:00 pm with Mass at Holy Family Church, 271 Fourth Street Way. Around 5:00 pm, we will head into the Prayer Garden, where you can taste a variety of food, such as delectable desserts and traditional German and Hispanic fare, as well as sip on various beers. People young and old will find something to enjoy, including giant Connect Four, a Makers Market, inflatable obstacle course, petting zoo, basket raffle, a balloon twister, and live music from Dorf Kapelle! At 8:15 pm, come into Holy Family Hall for trivia with a cash prize! Free admission. Food, drink, raffle tickets available for purchase.
---
Altar Server Training set for October 14
Holy Family will offer Altar Server training from 8:00 to 10:00 am on Saturday, October 14 at Holy Family Church, 271 Fourth Street Way, for any children who are new to Altar Serving or who are in need of a refresher. This is open to boys and girls in the 3rd grade or older that are interested in serving for Saturday or Sunday Masses at any of our church sites. All young disciples of Christ – siblings, cousins, grandchildren, or friends – whose families are Holy Family parishioners are welcome!
---
Start your Wednesdays with St. Ambrose Men's Group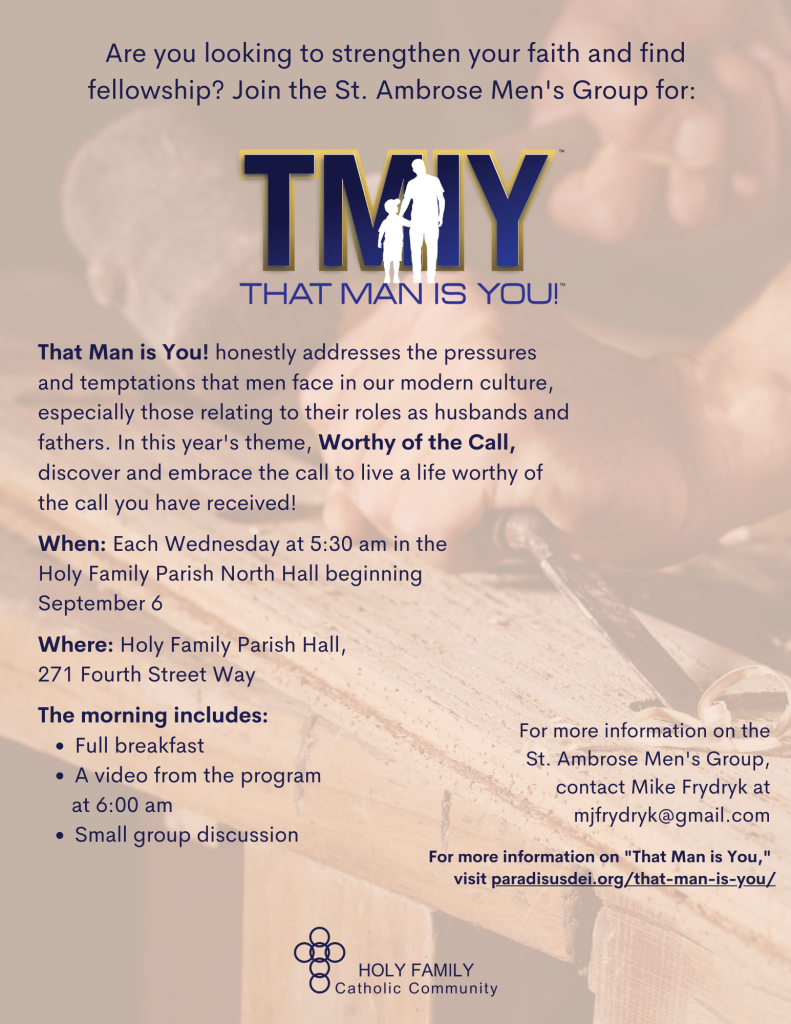 Men: are you looking to learn more about your faith in community with your fellow men? Then join the St. Ambrose Men's Group in Holy Family Hall on Wednesday mornings from 5:30 to 7:00 am for the "That Man is You!" program! This program seeks to address the pressures husbands and fathers face in our modern culture. Attend and enjoy a full breakfast, a video at 6:00 am, and small group discussion. The cost to participate in the program is $10. For more information, please visit hffdl.org/men.
---
Travel with Holy Family to Women of Christ Conference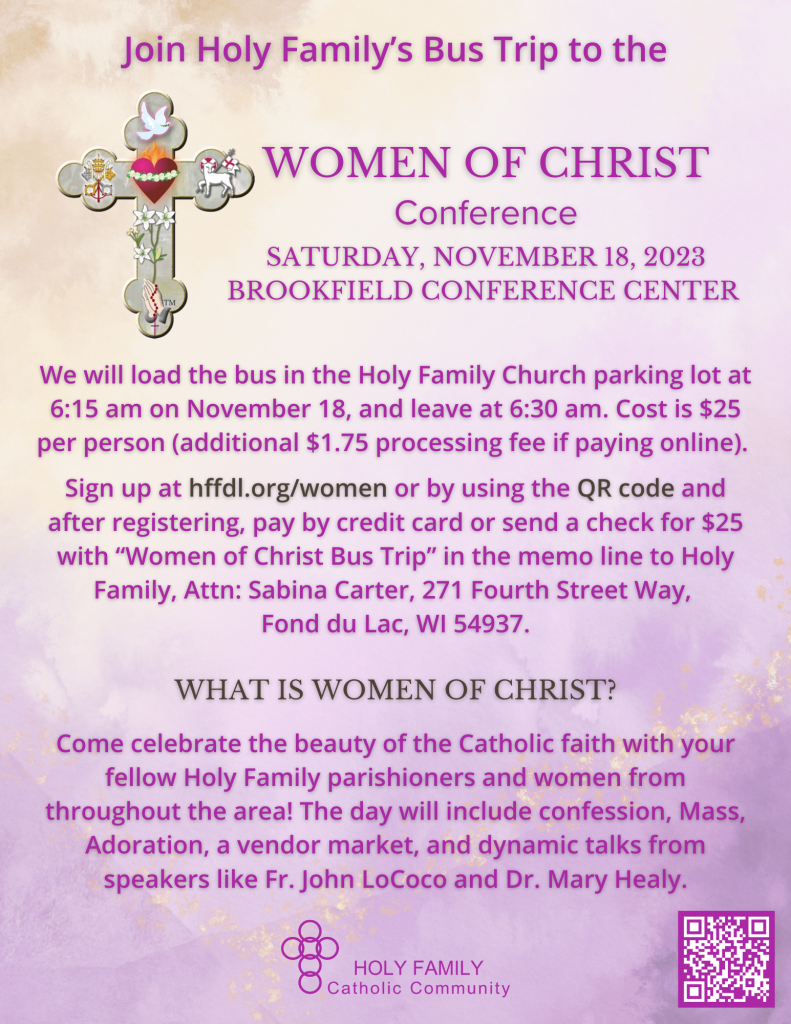 Women are invited to join Holy Family on its bus trip to the Women of Christ Conference on Saturday, November 18. The bus will board in the Holy Family Church parking lot at 6:15 am and leave at 6:30 pm and travel down to the Brookfield Conference Center. The Women of Christ Conference provides women the opportunity to celebrate their Catholic faith with women from throughout the area. The bus trip will cost $25 per person (an additional $1.75 processing fee if paying online). Register at hffdl.org/women and pay online with credit card or send a check for $25 with "Women of Christ Bus Trip" in the memo line to Holy Family, Attn: Sabina Carter, 271 Fourth Street Way, Fond du Lac, WI 54937. Please register for the event separately.
---
Pet Blessing on Saturday, October 7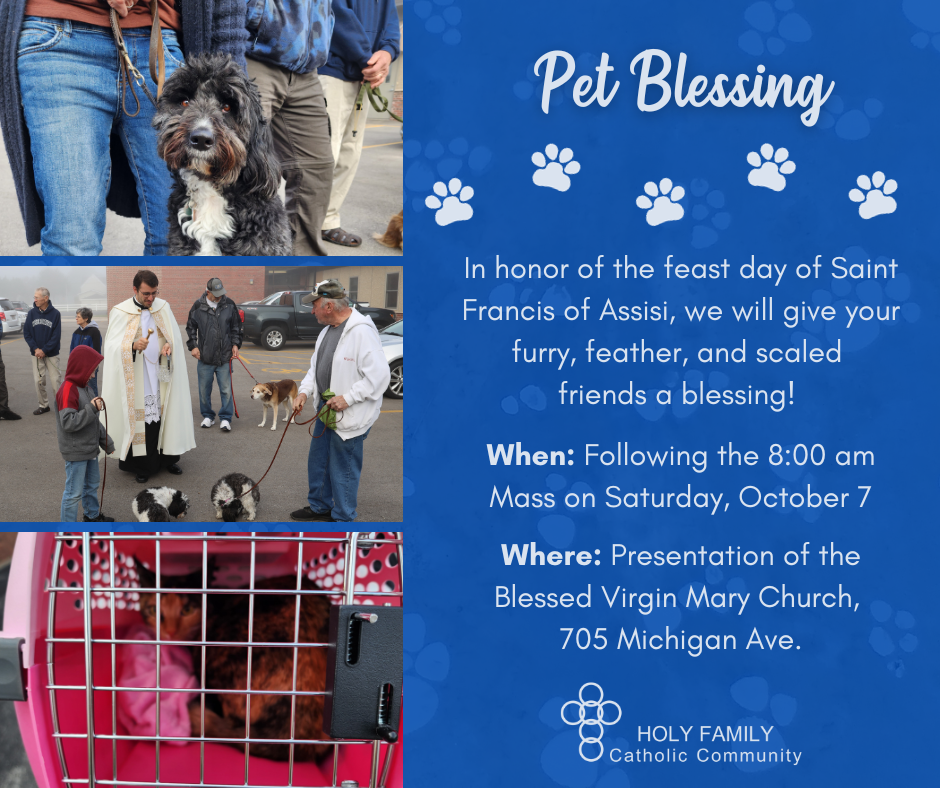 In honor of Saint Francis of Assisi's feast day, all pets are welcome to come to the Presentation of the Blessed Virgin Mary Church parking lot, 705 Michigan Ave., North Fond du Lac, on Saturday, October 7 following the 8:00 am Mass to receive a blessing!
---
Unite Our Nation Eucharistic Procession & Rosary Rally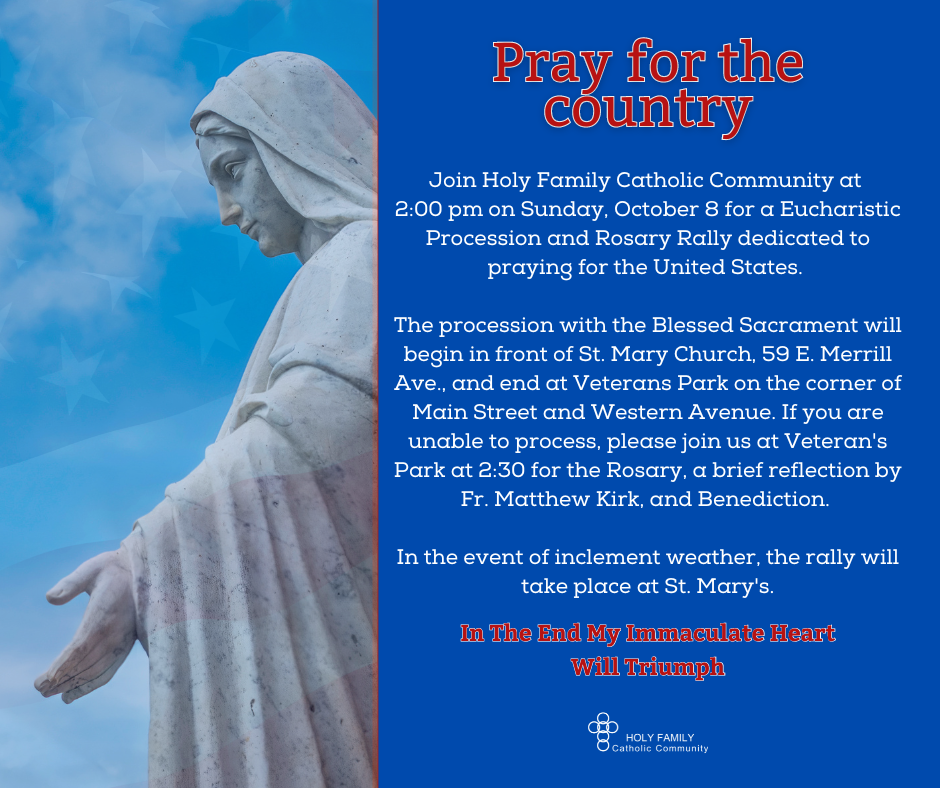 Pray for our country during Holy Family's Eucharistic Procession and Rosary Rally at 2:00 pm Sunday, October 8. The Procession with the Blessed Sacrament will begin at St. Mary Church, 59 E. Merrill Ave., and end at Veterans Park on the corner of Main Street and Western Avenue. In the event of inclement weather, the rally will take place at St. Mary's Church.
---
Faith Builders Club for Kids to talk St. Therese of Lisieux October 8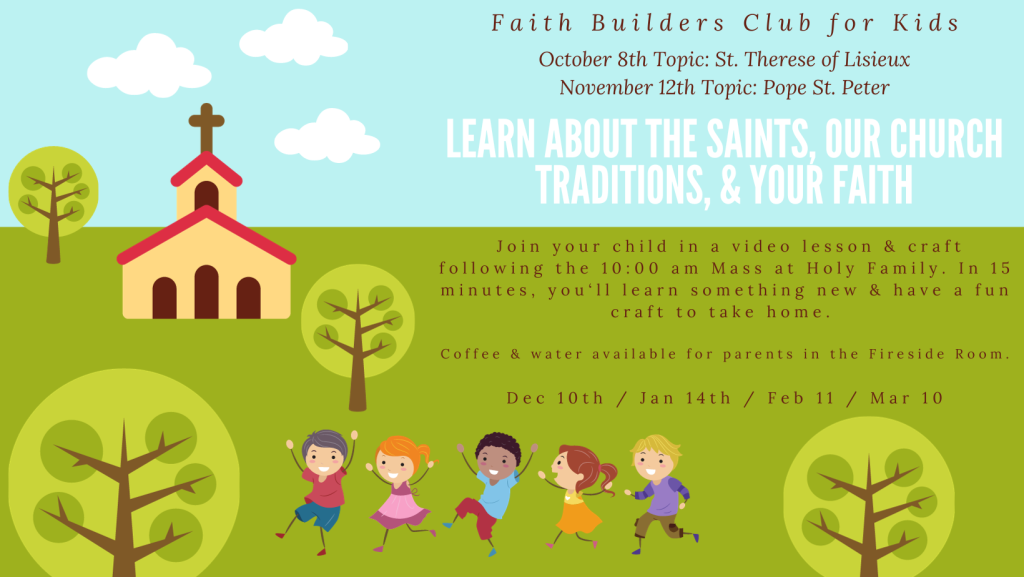 Parents are invited to join their child to learn about St. Therese of Lisieux at our Faith Builders Club for Kids program following the 10:00 am Mass at Holy Family on Sunday, October 8! In about 15 minutes, children can learn more about their faith and make a fun craft to take home!
---
Learn more about the experience of the homeless at screening of "The Invisible Class"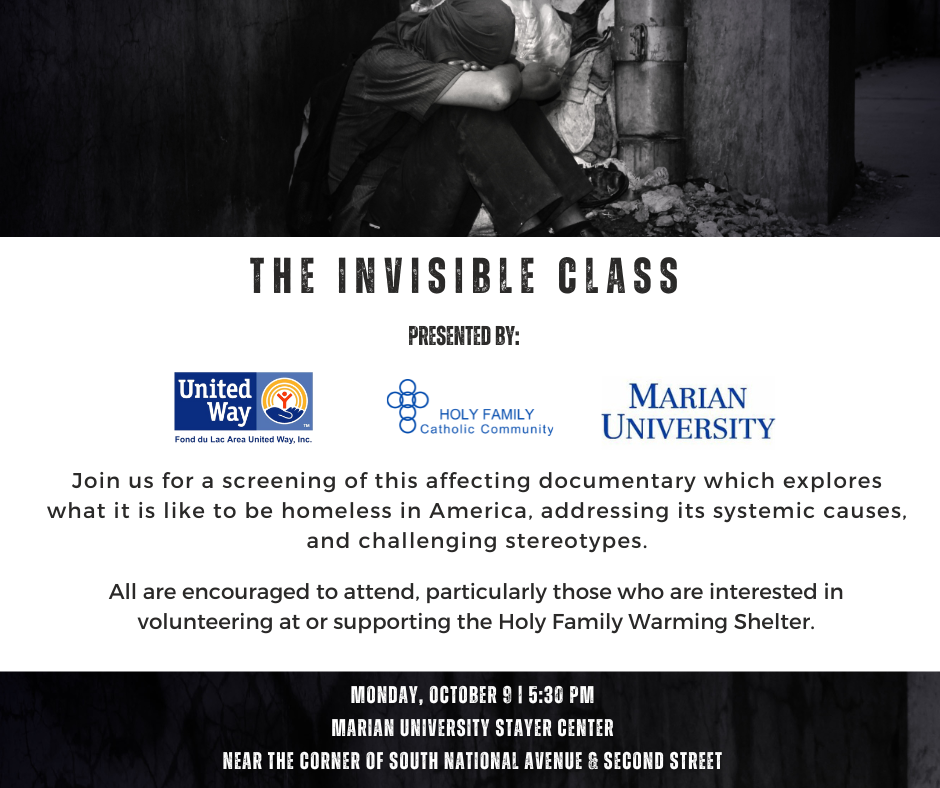 Holy Family, in conjunction with the Fond du Lac Area United Way and Marian University, will present a screening of "The Invisible Class" at 5:30 pm on Monday, October 9 at the Marian University Stayer Center, located near the corner of Second Street and National Avenue. This documentary explores what it looks like to be homeless in America, addressing its systemic causes and challenging stereotypes. All are encouraged to attend, particularly those who are interested in volunteering at or supporting the Holy Family Warming Shelter.
---
Building the Domestic Church series to begin October 11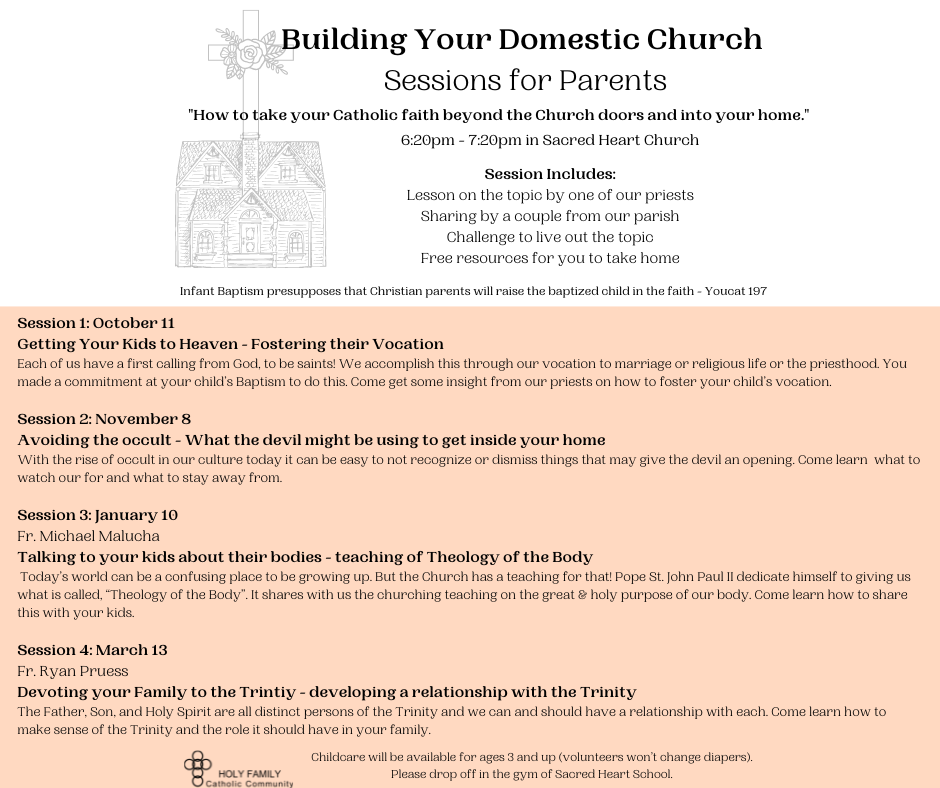 Learn how to take the Catholic faith out of the doors of the church and into your home at Holy Family's Building the Domestic Church sessions, beginning on Wednesday, October 11 at Sacred Heart Church, 200 S. Peters Ave.! Running from 6:20 to 7:20 pm, each session will include a lesson on the night's topic by one of our priests, a sharing from one our parish couples, a challenge to live out the topic, and free resources to take home. The topic of the October 11th session is "Getting Your Kids to Heaven – Fostering their Vocation" and will feature Fr. Matthew Kirk.
---
Registration for First Reconciliation & First Communion Preparation closes soon
Now through October 10, you can sign up your child for Holy Family Catholic Community's First Reconciliation and First Communion Sacramental Preparation program. The program is open to all children who entered second grade this school year. Please remember that sacramental preparation is completed through your local parish, not SMSA, so please sign up soon if you want your child to receive these sacraments through Holy Family. To register, please visit hffdl.org/cf.
---
Meeting for First Reconciliation and First Communion set for October 14-15
The Holy Family Catholic Community First Reconciliation and First Communion Sacramental Preparation Program will have its first meeting and Mass the weekend of October 14-15 at Holy Family Church. Families can attend either the October 14th meeting from 4:00 to 5:30 pm or the October 15th meeting from 8:00 to 9:30 am. You will attend Mass followed by the meeting. If you have not registered your child for First Reconciliation and First Communion, please make sure to do so by October 10th at hffdl.org/cf. Please note: students who attend Catholic School must register through the parish not their school.
---
Are you interested in becoming Catholic? Consider Holy Family's RCIA program
Are you searching for meaning in your life and wondering what path God has in mind for you? If you are asking these questions or questions like them, the Catholic way of life awaits you. For centuries, people have turned to the Church to find the answers to the deepest and hardest questions of everyday life. See what awaits you in the Catholic Church by joining Holy Family's Rites of Christian Initiation for Adults program, or RCIA. RCIA is a process through which non-baptized men and women enter the Catholic Church. Adults from other faith traditions and those baptized Catholic but not raised Catholic are also welcome. The program will begin in late October. To learn more and to sign up, please visit hffdl.org/rcia.
---
Learn more about your faith at Holy Family Small Groups and Bible Studies this fall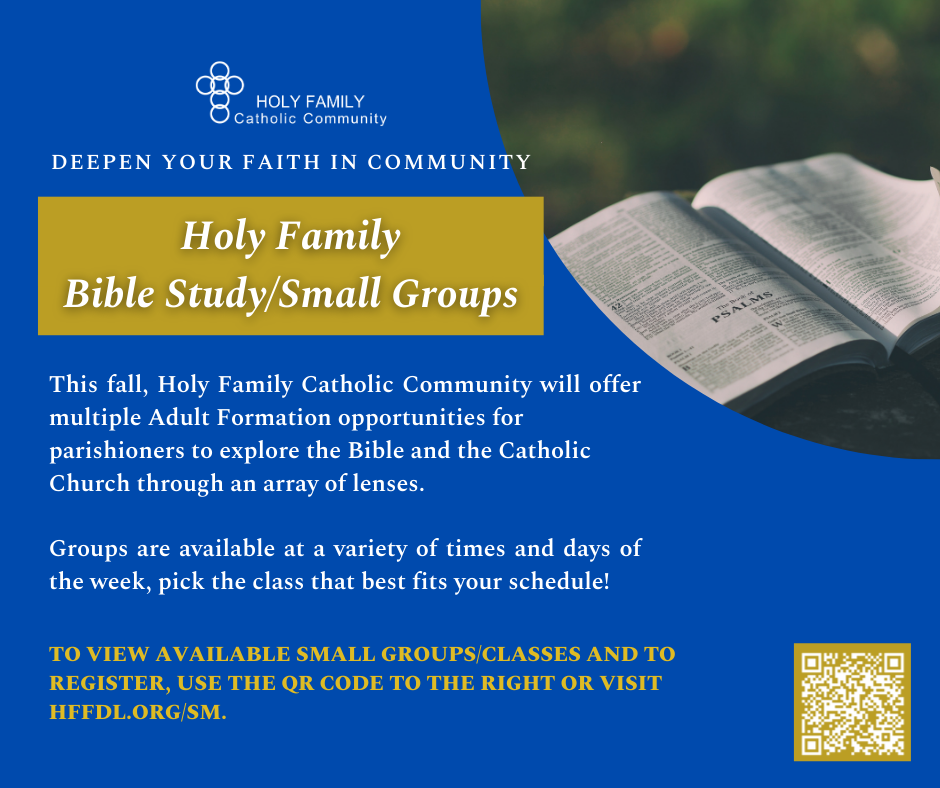 Do you want to learn more about your faith or the Catholic Church? Do you want to deepen your knowledge as part of a community of your fellow parishioners? Register now for Holy Family's multiple Bible Studies and Small Groups! Programs are offered at a variety of dates and times. To learn more about the parish's fall offerings and sign up for classes, visit hffdl.org/sm.
Fond du Lac Fire Rescue Explorer Program Open House & Signup Event
The Fond du Lac Fire Rescue Explorer Program is designed to inform young people, ages 14-20, about various Fire/EMS training topics. There will be an open house on October 5th at Station 1 – next to Gilles, anyone interested in learning more or signing up to be a part of the program are encouraged to attend.
Please click on the link below for more information. If you are planning to attend, please contact: Lead Advisor: Lt. Keith Wendt at fire@fdl.wi.gov and Executive Director: Chief Erick Gerritson at egerritson@fdl.wi.gov.
---
Fond du Lac Chapter of WRTL
You are cordially invited to join the Fond du Lac Chapter of WRTL and other pro life advocates for the Annual Life Chain.
October 1st from 2-3 p.m. on the Corner of W. Johnson and Peters Ave. Fond du Lac, WI
Pro Life Posters will be available.