Big Money Raffle

The Big Money Raffle was instituted in 1986. This cash raffle is one of only three major fundraisers for St. Mary's Springs Academy and involves every family, Pre-K through 12th grade. Since its inception, the Big Money Raffle has contributed over $2,000,000 to the system.  All profits go toward the operational expenses of SMSA and help keep tuition costs consistent within the region.
Big Money Raffle tickets are sold at the SCRIP office, north and south hall SMSA offices, and by SMSA families. Tickets are $50.00 each and are sold beginning in October of each year. The event culminates with a January drawing with the top prize winner receiving $20,000. In addition, another $10,000 in cash prizes is awarded.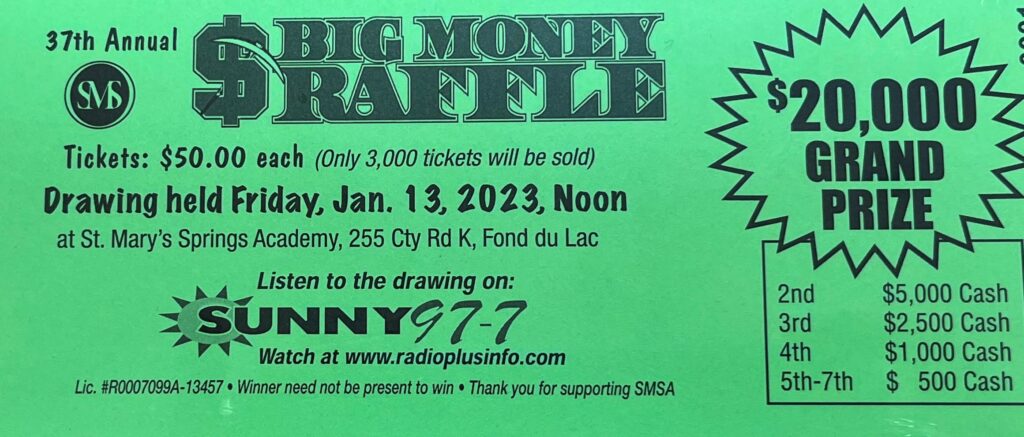 Congratulations to our 2022 Big Money Raffle Winners!
$20,000 – Ginny Ditter

$5,000 – Amanda Nash

$2,500 – Becky Harmsen

$1,000 – Tim Abler

$500 – Dennis Buechel

$500 – Ron Wilson

$500 – Chris Gross
Thank you for supporting the 36th Annual Big Money Raffle drawing!  We raised $98,550!  
Your support ensures St. Mary's Springs Academy can continue to provide a whole student education, spiritually, academically and emotionally to every student who seeks a Catholic education.  
Mark your calendars for this year's Big Money Raffle Drawing on Friday, January 13, 2023!
Thank you!
Big Money Raffle Committee
Kelly Baker, Jenny Baker and Sasha Smith