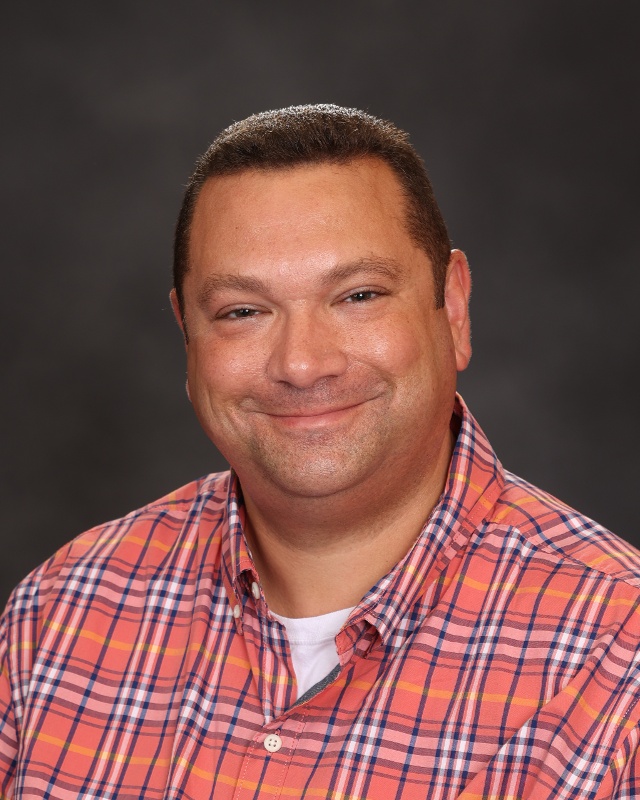 Coordinator of College and Career Planning/SMSA Website Content Specialist
Mr. Stamatakos holds a Bachelor of Arts degree in Broadcast/Electronic Communication from Marquette University with a minor in Political Science as well as a Masters of Arts in Higher Education Administration from the University of Louisville. Mr. Stamatakos is the Coordinator of College & Career Planning at St. Mary's Springs Academy, bringing nearly twenty years of experience working in and around college admission to The Ledge. He also serves as the Communications Chair for the Wisconsin Association for College Admission Counseling (WACAC).
His top 5 Clifton Strengths are: Adaptability, Futuristic, Maximizer, Strategic, Activator.  His favorite Bible verse is. "And now these three remain: faith, hope and love. But the greatest of these is love".– 1 Corinthians 13:13 (Fun fact, Jim wears a bracelet with this verse written in morse code!)
A bit about Mr. Stamatakos: "People tell me that I look like Liev Schreiber and sound like Vince Vaughn. My first career out of college found me working in radio! I was a DJ on both WLZR-FM (Lazer 103) and WLUM-FM (FM 102.1) in Milwaukee from 2000-2007. I also worked for a Los Angeles-based media research firm called Mediabase 24/7 from 2001-2004 (I worked from home before it was cool). I transitioned to working in college admission in January 2005, spending the most time with St. Norbert College in Green Bay as both Associate Director of Admission and an academic advisor. I moved to the high school side of the desk in July 2014 when I became Director of College Advising at Divine Savior Holy Angels High School in Milwaukee. I come to SMSA from Marian Central Catholic High School in Woodstock, Illinois where, as the first full-time college counselor in the school's sixty-year history, I built a college counseling program from the ground up.
I'm a product of a Catholic high school and a Catholic university who practices the Jesuit idea of cura personalis and the Norbertine idea of 'radical hospitality'. I enjoy being the lantern that guides students and parents through the dark and all-too-often labyrinthine worlds of college admission and college financial aid. My goal as a college counselor is to find the best fits for the students I work with rather than nab them the biggest trophies. I often challenge students and parents (in constructive, thoughtful ways) to consider why they believe certain things about colleges and why they might value certain colleges over others. I'm very clear with students that, in my world, there's a difference between "getting something done" and "doing something well". I encourage them to do the latter when working on their college applications, since those applications represent both the students themselves and the school they attend. I'm also sure to let them know that I want to collaborate with them on their applications and help them rip down the walls and barriers that may be preventing them from being their most authentic selves. I will strap on my bandolier belt and go to fight for a student with a 2.2 overall GPA and a 21 composite ACT with the same vigor as a student with a 4.0 overall GPA and a 36 composite ACT. I never promise students and parents anything when it comes to specific outcomes, but I do promise that I'll support them in their endeavors.
My focus isn't exclusively on getting high school students admitted to two or four-year colleges and universities. I also want to spend time with students who don't think college is a good fit for them. I enjoy serving as a sounding board for them as they consider what path(s) their lives after high school might take. Students who are considering entering the workforce, the military, or the trades should feel just as comfortable coming to me for assistance so I can help them take their next steps.
I live in Greendale, Wisconsin (fifteen minutes south of Milwaukee) with my wife, Beth; my son, CJ; my daughter, Annika; our dog, Falcon; and our cats Roman, Asia, Billie, and Mochi. I'm a true geek who loves anything Star Trek, Star Wars, Marvel/DC, and He-Man. I enjoy watching football, basketball, and baseball, going to concerts, playing video games with my kids, and freaking myself out on roller coasters. I might also own ghost hunting equipment…