Parish Updates
Women's Ministry Kick-off Event TONIGHT!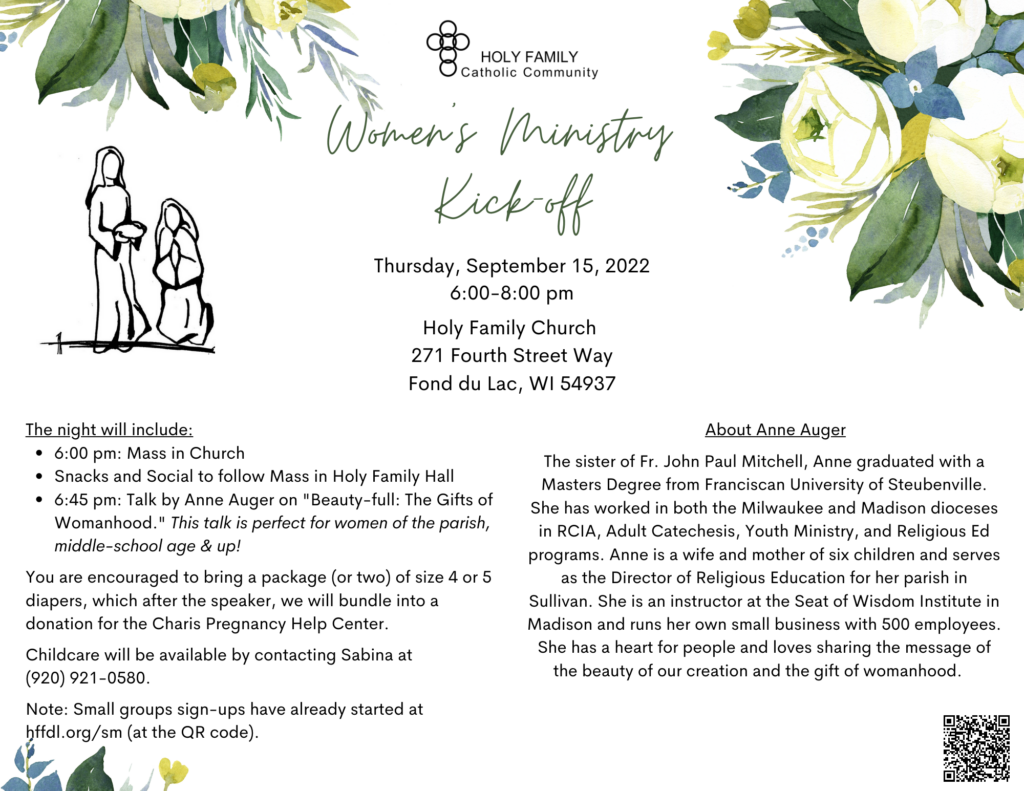 Holy Family Children's Choir starts TONIGHT!
Are you ready to sing? Holy Family Children's Choir resumes TONIGHT at 4:00 pm at Holy Family Church, 271 Fourth Street Way. Children's Choir rehearses every Thursday from 4:00 to 4:45 pm, September through May, and leads the singing for one Mass per month.
Children's choir is open to kids in 2nd grade through 8th grade. No registration is required—simply show up to rehearsal on Thursdays and a Mass schedule will be provided to you.
Call the Parish Office at (920) 921-0580 for more details.
Enjoy great food, music, and culture at Latin Flavor!
Paul Thelen 40th Anniversary Concert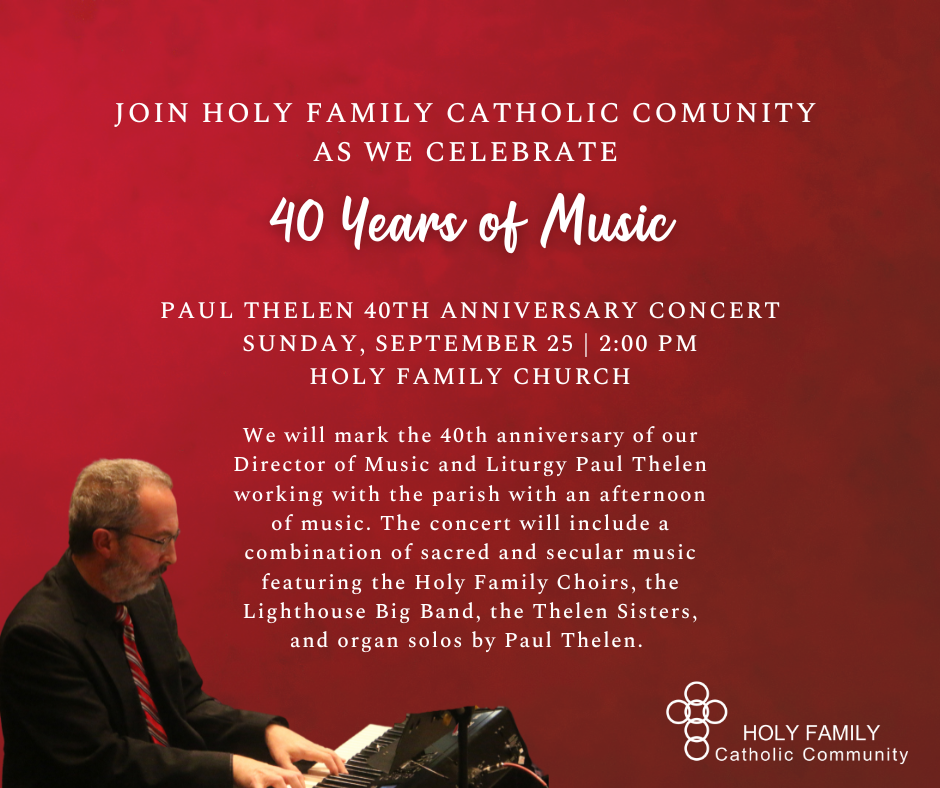 Learn about Angelology on September 25
Mark your calendar for Oktoberfest & get your Oktoberfest T-Shirts!
Celebrate Holy Family Catholic Community's Oktoberfest by getting your own Oktoberfest t-shirt! T-shirts feature our Oktoberfest mascot, Fredrich the Oktoberfest squirrel, and some of our favorite Oktoberfest lingo!
T-shirts are $16.00 each for sizes youth small to adult extra-large; $19.00 for 2XL; $22.00 for 3XL; and $25 for 4XL. All orders must be placed by Thursday, September 22 in order to ensure pickup by October 8 at Hopper's All-Star Trophy, 77 N. Main St., Fond du Lac.
To order, visit https://www.hffdl.org/t-shirt/ and see the flyer below for more information about our Oktoberfest celebration!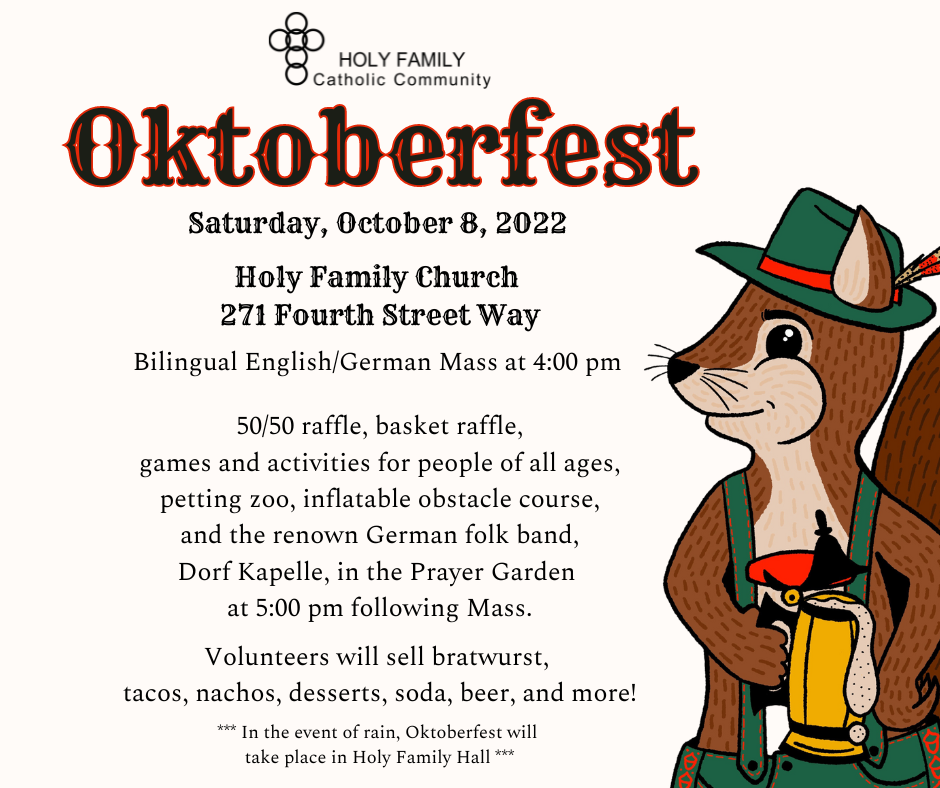 Register your children for First Reconciliation, First Communion Sacramental Preparation
You can register your children for Sacramental Preparation for First Reconciliation and First Communion through Holy Family Catholic Community until October 10. If your child has entered second grade this school year, please remember that Sacramental Preparation is done through your local parish.
Visit hffdl.org/em to sign up.
St. Ambrose Men's Group to meet Wednesday, September 21
Holy Family's St. Ambrose Men's Group will meet again on Wednesday, September 21 from 5:30 to 6:45 am in Holy Family Hall, 271 Fourth Street Way. All men are invited to attend the group, which utilizes the "That Man is You!" program, running through December 14.
The program addresses the pressures and temptations that men face in our modern culture, especially those relating to their roles as husbands and fathers. The morning includes a full breakfast, a program video at 6:00 am, and small group discussion.
Middle School and High School Youth Group
All middle school and high school students are invited to attend the Middle School and High School Youth Groups on Thursday nights.

The groups will meet the first Thursday of each month from 6:30 to 8:30 pm at:

Presentation of the Blessed Virgin Mary Church

705 Michigan Ave

North Fond du Lac

as part of Cor Jesu, and every other Thursday of the month from 7:00 to 8:00 pm at

Sacred Heart School

678 Western Ave.

Find more information on Holy Family's website or contact High School Formation Coordinator Andrew Skiff.
Sign up for Holy Family Bible Study/Small Groups
Do you want to learn more about your faith or the Catholic Church? Do you want to deepen your knowledge as part of a community of your fellow parishioners? Sign up for one of Holy Family's multiple Bible Studies and Small Groups!
Programs are offered at a variety of dates and times as well as on a wide range of topics including the healing power of the Sacraments, understanding the Scriptures, and lifechanging encounters with Jesus.
To learn more about our fall offerings and sign up for classes, visit www.hffdl.org/sm.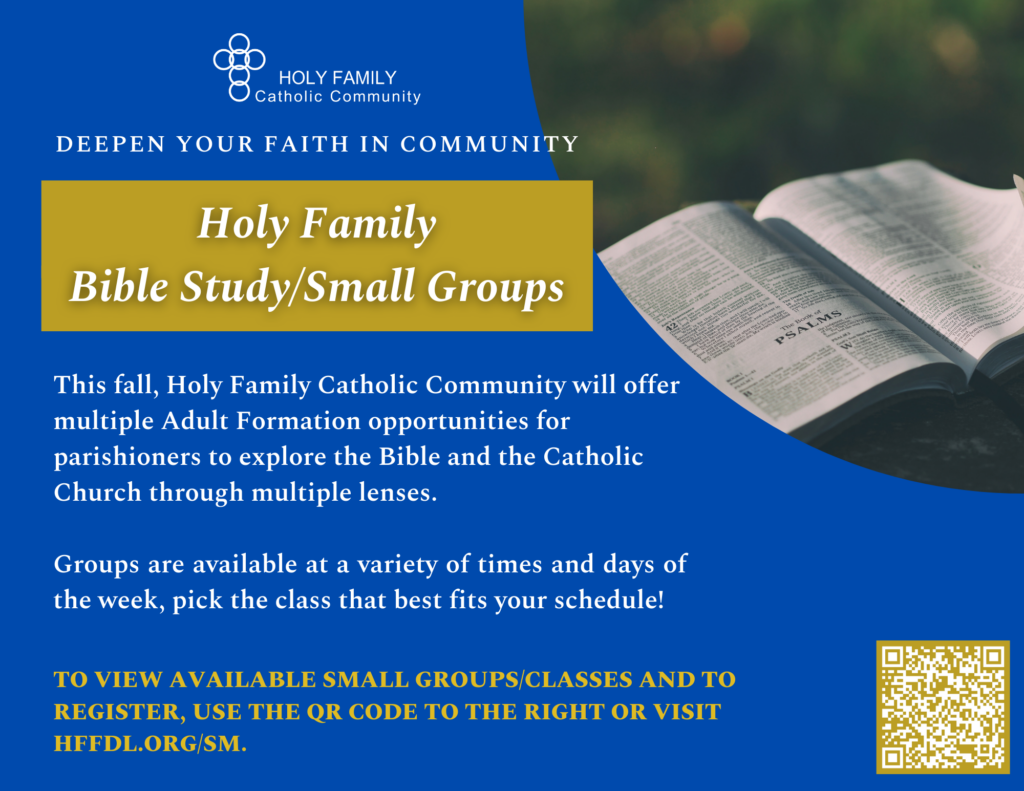 Children's Liturgy of the Word in need of volunteers
Holy Family Catholic Community is looking for volunteers to run Children's Liturgy of the Word at 10:00 am at Holy Family, 8:30 am at St. Peter, or 9:00 am at Sacred Heart. The parish is hoping to begin the program on Sunday, September 18th at Holy Family and on Sunday, October 2nd at St. Peter.
If you are interested in running Children's Liturgy at any of these Mass times, please contact Trisha Zimmerman at the Parish Office at (920) 921-0580 ext. 503 or trishaz@hffdl.org.
Celebrate the Season of Creation
The Season of Creation is underway!
Holy Family is providing opportunities for prayer, learning, and service in conjunction with the "Season of Creation." The Season of Creation runs from the first of September through the Feast Day of St. Francis of Assisi on October 4th. The Season of Creation is a Christian movement seeking to instill in the hearts of believers a greater awareness of an integral ecology which encompasses not only care of the environment but also the meaning of the human person and human culture. The treasure of the Catholic Church's tradition has much to offer this ecumenical movement and Holy Family Parish will be providing a number of opportunities to engage including:
A talk by Fr. Justin about "What the Saints can Teach us about Stewardship" (26-Sep)
An Ecumenical Prayer Service (19-Sep)
An outdoor Mass followed by a hike and picnic at Mauthe Lake (24-Sep)
A closing Mass (3-Oct).
We will be providing more details in the E-Ledger and on the Holy Family Facebook Page as these events draw closer!
Season of Creation: Blessing of Farm Equipment and Fields
Holy Family's Fr. Justin Weber will be offering the opportunity for farmers to have themselves, equipment, and fields blessed as we move into the harvest season. If you are interested, please email Fr. Justin at justinw@hffdl.org
Community Updates
No Child Hungry Meal Packing
Silica For Your Home is hosting a meal pack event alongside No Child Hungry on

Friday, September 23rd

and Saturday, September 24th

and is open to the public! (All ages welcome!)

Please help us pack 100,000 nutritious meals to give back to our Community and provide food to those in need!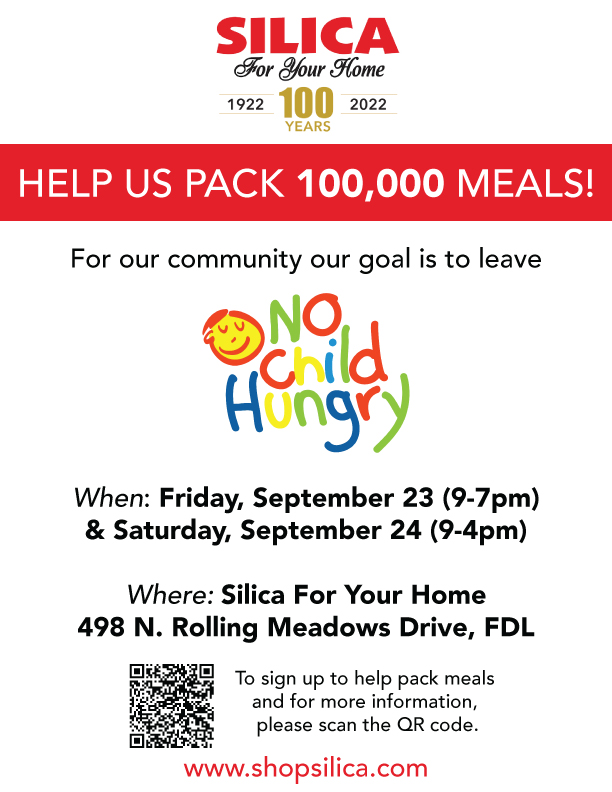 For more information or to sign up to help pack meals please visit: https://lnkd.in/gVRZUMyt
Aurora Free Injury Evaluation
If pain has moved you from participant to spectator, call Aurora Sports Health to schedule a free injury evaluation. Performed by a licensed athletic trainer, physical therapist or occupational therapist, the free screening includes a pain assessment and recommendations for treatment or physician referral, if needed. 
Click here for the assessment.
---
Speech Therapy at Aurora Health
Speech-language pathologists or speech therapists work to prevent, assess, diagnose, and treat speech, language, social-communication, cognitive-communication, voice and swallowing disorders. 
Speech-language pathologists work with any age, from infants to adults, to help restore the ability to communicate, eat safely, remember, understand and solve problems.
Have more questions contact us at 920-907-7000 or visit us at aurora.org
Click here for information.