Altar Servers welcome to serve at more than one Holy Family site
If your child is interested in serving at Mass more often within Holy Family Parish, being close to the altar and close to the Lord, please contact Terry Drake at the Holy Family Parish Office at (920) 921-0580 ext. 101 or terryd@hffdl.org to be added to the sites you wish to serve. Once complete, you must access your online account to sign up and update your site preferences, after which you child can be scheduled to serve at your designated sites. Thank you!
---
Have a great time at Holy Family's Trivia Night next Friday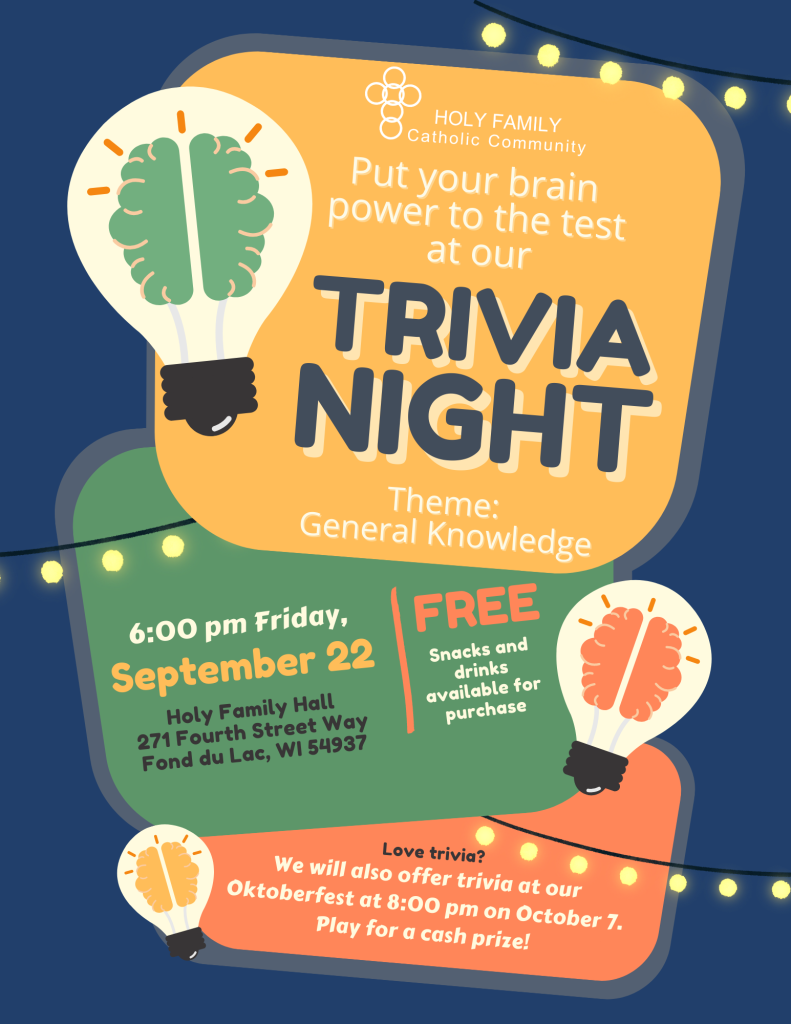 Bring your friends and family to Holy Family's Trivia Night on Friday, September 22 in Holy Family Hall. The free trivia game will begin at 6:00 pm and cover a wide range of categories, with a question for everyone no matter their interests. Snack and drinks will be available for purchase. No pre-registration is required.
---
Travel with Holy Family to Women of Christ Conference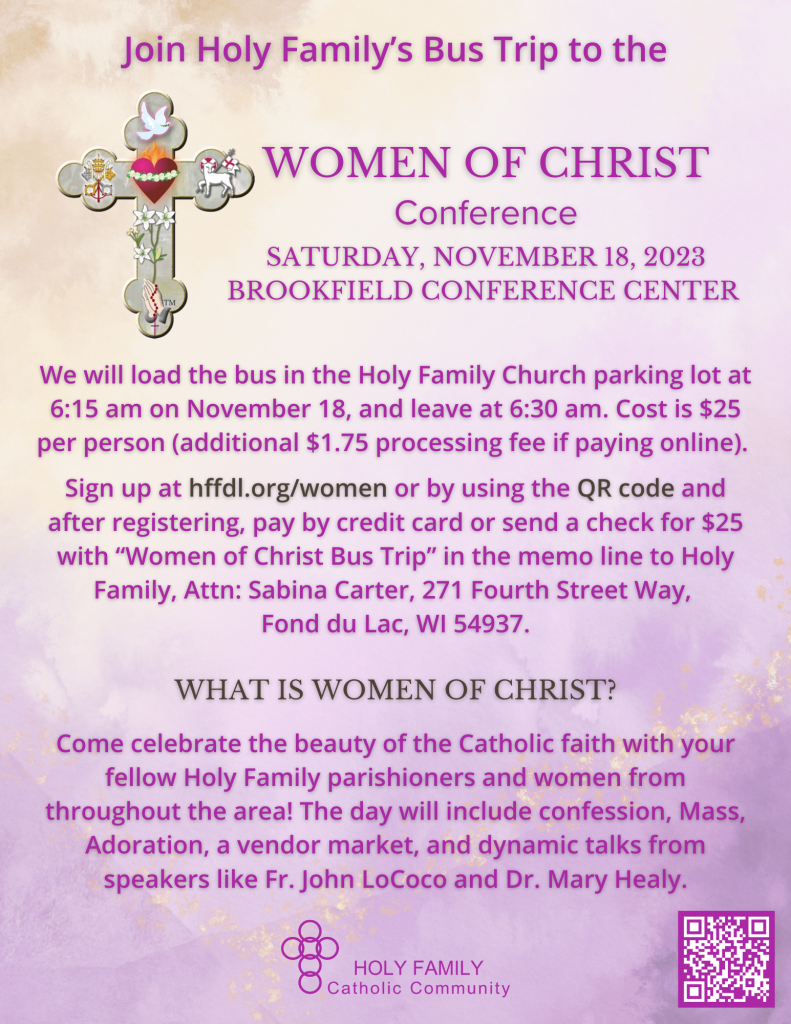 Women are invited to join Holy Family on its bus trip to the Women of Christ Conference on Saturday, November 18. The bus will board in the Holy Family Church parking lot at 6:15 am and leave at 6:30 pm and travel down to the Brookfield Conference Center. The Women of Christ Conference provides women the opportunity to celebrate their Catholic faith with women from throughout the area. The bus trip will cost $25 per person (an additional $1.75 processing fee if paying online). Register at hffdl.org/women and pay online with credit card or send a check for $25 with "Women of Christ Bus Trip" in the memo line to Holy Family, Attn: Sabina Carter, 271 Fourth Street Way, Fond du Lac, WI 54937.
---
Oktoberfest is less than a month away!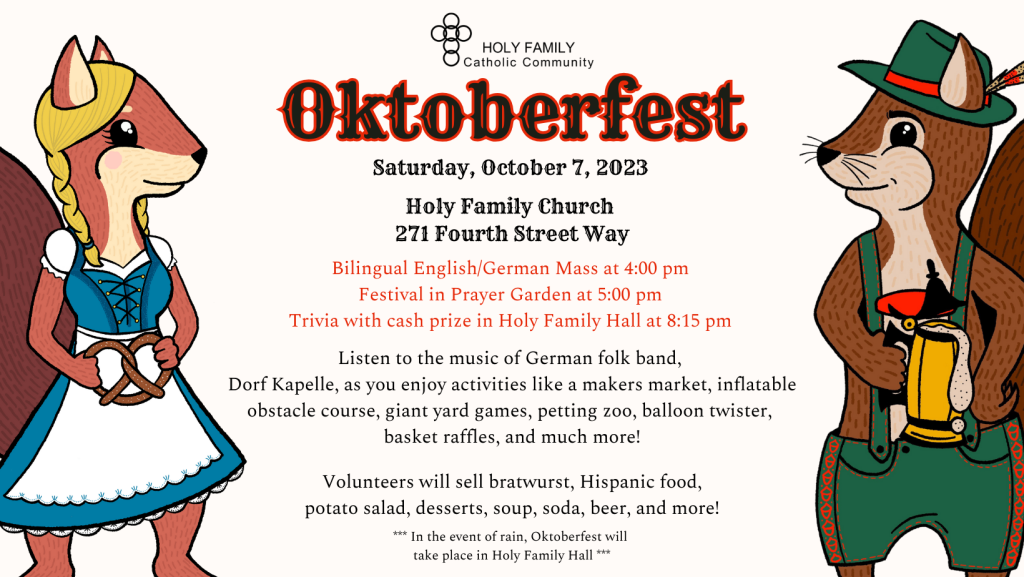 Grab your lederhosen and bring the whole family to Oktoberfest at Holy Family Church & Prayer Garden on Saturday, October 7! This festival will begin at 4:00 pm with a special Mass featuring Readings and music in both English and German. Then, following the Mass, take to the Prayer Garden (Holy Family Hall in event of rain) to enjoy music from the German folk band, Dorf Kapelle, and activities for people of all ages including: giant yard games, an inflatable obstacle course, makers market, petting zoo, balloon twister, cotton candy, and basket raffle! As you have fun, you can purchase brats, potato salad, food from the parish's Hispanic community, soup, homemade desserts, soda, beer, and more! The festival will close out the night with a chance to win a cash prize when you play trivia beginning at 8:15 pm in the Holy Family Hall. Admission is free! Interested in donating baked goods or taking part in our makers market? Contact Sarah at the Parish Office at (920) 921-0580 ext. 201 or sarahr@hffdl.org.
---
Building Your Domestic Church sessions to return
On Wednesday, October 11, Holy Family will kick of its new session of "Building the Domestic Church Parent Sessions" with its first topic, "Getting your Kids to Heaven – Fostering their Vocation" at Sacred Heart Church, 200 S. Peters Ave. Childcare will be available for ages 3 and up. Please drop off in the gym of Sacred Heart School.
---
Meeting for First Reconciliation and First Communion set for October 14-15
The Holy Family Catholic Community First Reconciliation and First Communion Sacramental Preparation Program will have its first meeting and Mass the weekend of October 14-15 at Holy Family Church. Families can attend either the October 14th meeting from 4:00 to 5:30 pm or the October 15th meeting from 8:00 to 9:30 am. You will attend Mass followed by the meeting. If you have not registered your child for First Reconciliation and First Communion, please make sure to do so by October 10th at hffdl.org/cf. Please note: students who attend Catholic School must register through the parish not their school.
---
Become Catholic through Holy Family's RCIA program
Do you ever ask yourself what the meaning of your life is and how you can come to know God's love? Consider joining Holy Family Catholic Community's RCIA program and become part of the Catholic faith. RCIA is for those adults who are not baptized, those from other faith traditions, and those baptized Catholic, but not raised Catholic. Come and learn about the true Catholic faith. Sessions will start in October. Contact Sabina at the Parish Office at (920) 921-0580 ext. 501 or scarter@hffdl.org for more information. All inquiries are welcome!
---
Learn more about your faith at Holy Family Small Groups and Bible Studies this fall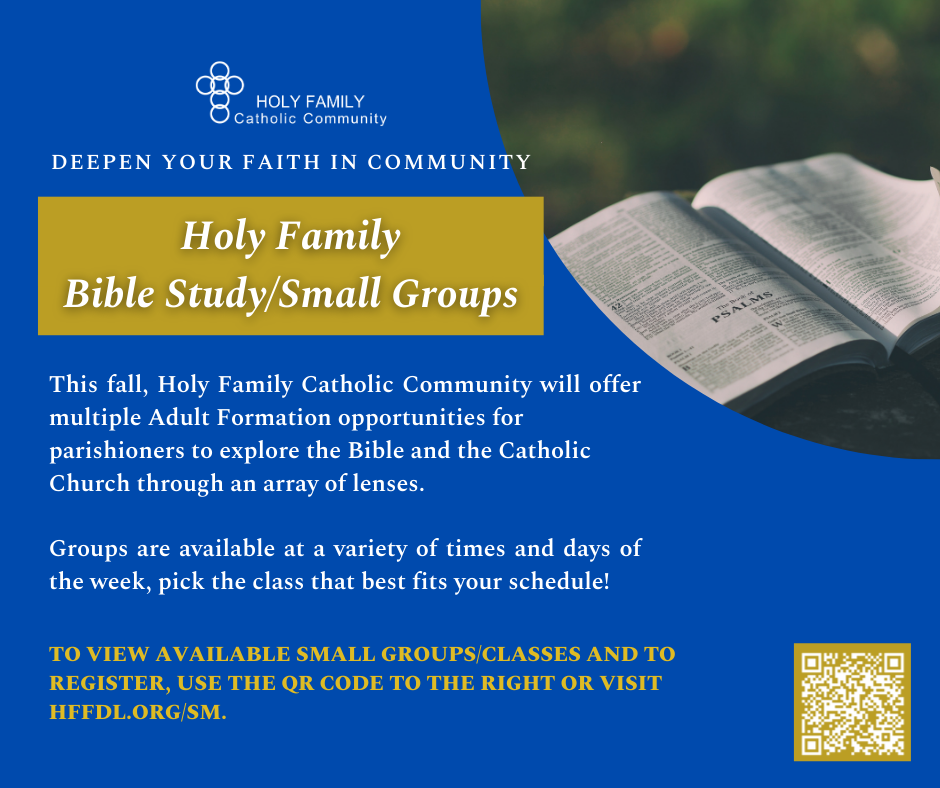 Do you want to learn more about your faith or the Catholic Church? Do you want to deepen your knowledge as part of a community of your fellow parishioners? Register now for Holy Family's multiple Bible Studies and Small Groups! Programs are offered at a variety of dates and times. To learn more about the parish's fall offerings and sign up for classes, visit hffdl.org/sm.